How to use plot zoom functions
The plots produced here all contain areas which are "clickable". The figure below illustrates where the sensitive areas are located and the functions they serve.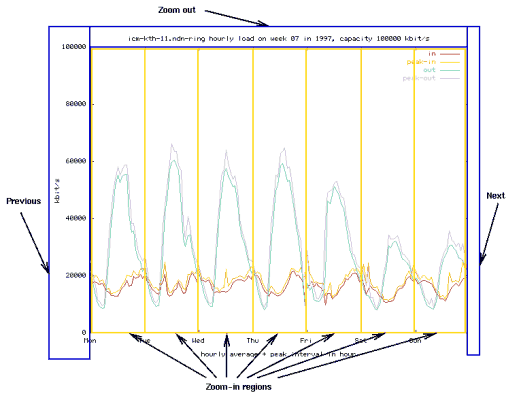 A couple of caveats:
For this to work your browser has to support so-called client-side image maps. Server-side image maps can't be used since the areas covered vary for the different plots and over time.
If the underlying scripts don't think there is data available for the "next" and "previous" periods, those areas will not be sensitive.
The algorithm used for splitting up the X-axis in the plot into sensitive regions is rather simple-minded, in that it distributes the X axis evenly between the "zoom-in" references. In cases where only parts of a week is visible (e.g. when you view a plot of the current month), the week boundaries will not fall on the Sunday/Monday border in the plot itself.
---
Last modified: Wed Jun 25 23:01:01 MET DST 1997
(c) 1996, 1997 UNINETT and NORDUnet